Kitchens and Baths. Bringing your home to life.
Our approach to designing your new kitchen or bath is simple. We want to provide you with a well-designed space with quality products at a price that is designed around you and fits your budget. After all, we know that your home is your refuge and where your life takes place and where memories are created. So, when it comes to your kitchen or bath remodel, we want to ensure your vision comes to life and it is as easy as possible on you.
We have a visualize planning program for Your Kitchen and Bath Remodel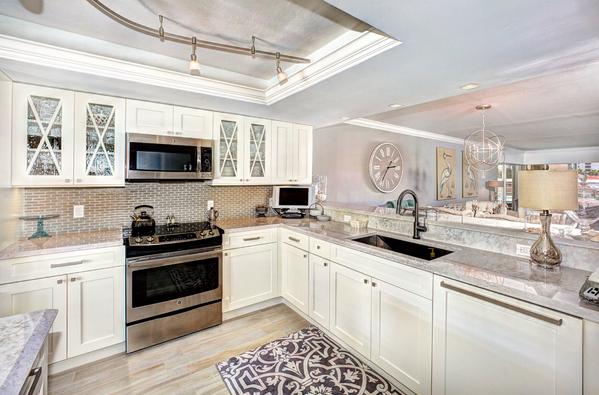 If you are considering doing a kitchen remodel we would love to help. Our planning process utilizes our visualize planning program to ensure your kitchen or bath remodel fits your unique vision for your home.
IN HOME DESIGN CONSULTATION
This is where it begins with a free in home design consultation to get your project planning started. We will come out to your home and meet with you one on one to understand your vision for your new kitchen or bath. Our job is to use our expertise to design you a perfect space, but we feel that it is equally important to understand your vision. Do you love to cook, to entertain, have a problem area in your kitchen you want to fix? Tell us about how you use your space and we will design a more functional and stylish area design around you. Also, you can tell us about what kind of finishes you might envision for your kitchen or bath. This will help us prepare some preliminary quotes for your cabinets and countertops.
DESIGN REVIEW
After our in home consultation meeting we will design your new kitchen and invite you into the showroom to view your drawings with our Interactive 3D Design Process. Our approach to designing your new space is to get you involved. We will show you three dimensional renderings of your new kitchen and get your feedback on the design. It is important for us to get it right so we love to know what you think. Our goal is to work together to come up with a space that will enhance your life. If you see something during the design review that you want to add to the space, we can add it on the fly and show you how it looks. Our process makes designing your new kitchen both easier and more exiting. At this time we will provide you with some preliminary pricing for your cabinets and countertops and refer you to our appliance partners so you can start researching appliances.
PRODUCT SELECTIONS
After our design review we will tour the showroom and review the different product lines that we offer. With all the cabinet choices and several different countertop manufactures, you are sure to find exactly what you are looking for. You will get to demonstrate the different functions of the cabinets and try out the latest accessories. We will also look at color samples, door samples and countertop colors so that we can put together the perfect combination.
CONSTRUCTION MEETING
Now that we have come up with a plan for your kitchen it is time to review the construction side of your project. We believe that the best way to serve you is to provide you fair and direct pricing with no surprises. With that being said, that also means that if you have your own contractor we are open to working with them too.
ORDERING AND PROJECT TIMING
After the design has been finalized, the finishes have been selected and the timeframe has been discussed with the contractor, it is time to order cabinets and counters. Typically your cabinets will have one of the longest lead times and your project will hinge on when the cabinets will arrive. We will work with you and the contractor to schedule an appropriate start date for your project based on when the cabinets are set to arrive. Once we set your start date, then it is time to bring your new kitchen and bath to life!
Start with your Free Quote or Call 239.793.6800